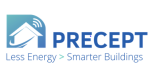 PRECEPT
A novel decentralized edge-enabled PREsCriptivE and ProacTive framework for increased energy efficiency and well-being in residential buildings
Start date: 01.10.2020
Duration: 36 months
Coordinator: WATT+VOLT S.A.
Details
The EU-funded PRECEPT project will facilitate the smooth and almost zero operational costs transformation of conventional residential buildings into highly efficient proactive residential buildings. It is tapping into this new framework and is proposing a Pred(scr)ictive and Proactive Building Energy Management System (PP-BMS). By making buildings smarter as regards energy management systems, the project will develop new sustainable business models for transforming traditional reactive buildings into proactive buildings.
PRECEPT ambitiously aims to set the grounds for the deployment and operation of proactive residential buildings. The proposed framework introduces a "plug-n-play" Pred(scr)ictive and Proactive building energy management system (PP-BMS) installed locally at building level, at the Edge-Enable Proactiveness (EEP) device.
List of achievements
Access the project publications and other resources here.
Contact
Contact person: Konstantinos Arvanitis
Address: WATT+VOLT S.A.
Tel: +30 2316010333
email: contact@precept-project.eu