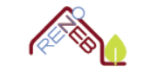 RenoZEB
Accelerating Energy renovation solution for Zero Energy buildings and Neighbourhoods
Start date: 01.10.2017
Duration: 42 months
Coordinator: SOLINTEL
Details
RenoZEB aims to unlock the nZEB renovation market leveraging the gain on property value through a new systemic approach to retrofitting that will include innovative components, processes and decision making methodologies to guide all value-chain actors in the nZEB building renovation process; including integrated solutions with highest impact in the revalorization of the building.
This will be achieved through: (a) Development of an innovative holistic, cost-effective and fast deep retrofitting methodology fornZEB. (b)Supporting the methodology for nZEB renovation, through ICT tools. (c) Development of a cost-effective and non-intrusive prefabricated multifunctional modular "plug and play" system for the renovation of buildings, (d) Increasing the post-retrofitting property value, through the transformation of buildings into an Active Energy. (e)Nodes through a smart control & monitoring system (f) New collaborative multi-value, multi-stakeholder methodologies and decision making process for selecting the best energy efficient renovation strategy. (g) Creation of new drivers of change for the Real Estate Industry creating fresh post-renovated property value schemes. (h) Demonstration to the Market of the Replicability of the Holistic Methodology and New Technologies through. (i) Three Virtual Demonstration sites. (j) Boosting the NZEB market through training and awareness of the value chain.
RenoZEB addresses all the relevant aspects from the call, but also many of the issues expressed in the work programme. RenoZEB will provide cost-effective plug&play solutions for a large scale deep NZEB rehabilitation schemes, ensuring the integrability of all its components, methodologies, training, guidelines, and demonstration cases (real and virtual) that show and ensure the replicability of the schemes, and technical tools to appropriately address the valorization of the building stock before and after nZEB renovation schemes are applied.
List of achievements
The project results are available here.
Contact
Contact person: Michele Vavallo
Address: SOLINTEL
Tel:
email: info@renozeb.eu