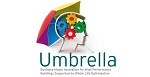 UMBRELLA
Business model innovation for high performance buildings supported by whole life optimisation
Start date: 01.09.2012
Duration: 36 months
Coordinator: IES Ltd
Details
Due to barriers that exist in when considering the sustainability of the built environment, optimising energy efficiency in buildings is often a management issue and not one of design. In many cases, it is the organisation responsible for the building that makes the decision with respect to where best to invest their limited resources. For this reason, decision support tools, providing information with respect to a buildings energy consumption and methods for implementation and incentivisation of the solutions, benefiting all stakeholders involved are required.

UMBRELLA will address this issue through the development of an innovative, web-based decision-support application, which provides common independent evaluation tools built around new and adaptable business models. The interface will use guided navigation to ascertain key information from users such as: key stakeholders; building location; building type; new or retrofit build; owner objectives and preferences e.g. energy efficiency, carbon and budget requirements etc. Business models, specific to the project and stakeholders will then be provided through the online dynamic web portal, which will allow users to explore and optimise different business models and the relating implications and recommendations for interventions to their specified building. This can be applied to any building at any stage of design or use.
List of achievements
UMBRELLA developed an innovative, web-based decision-support application (Re:Form), which supports and connects stakeholders involved in energy efficiency design and retrofitting of buildings. The tools analyse building energy performance against the user's needs, to give recommended energy efficient solutions and optimised business models for implementation across the whole life of the building.
The UMBRELLA project video can be found here.
Deliverables
D3.1 Identification of key stakeholders needs and requirements with respect to UMBRELLA
D4.3 Recommendation for innovation governance models supporting energy efficient buildings
D5.2 UMBRELLA toolset second prototype integrated
D6.2 UMBRELLA online dynamic web portal integrated

UMBRELLA Final report & Executive Summary
Contact
Contact person: Nick Purshouse
Address: Integrated Environmental Solutions Ltd.
Tel: +44 141 945 8500
email: nick.purshouse@iesve.com