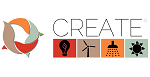 CREATE
Compact retrofit advanced thermal energy storage
Start date: 01.10.2015
Duration: 48 months
Coordinator: TNO
Details
CREATE is a 4-years research project supported by the European Commission under the Energy Theme of the Horizon 2020 for Research and Technological development (H2020 contract #680450) with the main aim to develop and demonstrate a heat battery, i.e. an advanced thermal storage system based on Thermo-Chemical Materials, that enables economically affordable, compact and ultra-low loss storage of heat in existing buildings. The project is coordinated by TNO and consists of 12 partners from 9 European countries.
The CREATE technology is a compact thermal energy storage system for the buildings sector which will be the game changer in the transformation of our existing building stock towards near-zero energy buildings. Implementation of the CREATE concept is foreseen in typical European dwellings. To demonstrate CREATE concept under the real conditions, the system will be installed into a single family house in Warsaw, Poland, where a land climate delivers both cold winters and warm summers.
List of achievements
The project publications are available here.
Contact
Contact person: Christophe Hoegaerts
Address: TNO, Stieltjesweg 1, 2628 CK Delft, Netherlands
Tel: +31 (0)88 866 63 43
email: christophe.hoegaerts@tno.nl