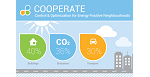 COOPERaTE
Control and optimisation for energy positive neighbourhoods
Start date: 01.10.2012
Duration: 36 months
Coordinator: Prof. Antonello Monti
Details
COOPERaTE has defined a path towards energy positive neighbourhoods. The key element is a System of Systems view: thanks to a web-based service called Neighbourhood Information, Model, COOPERaTE offers a unique way to integrate data from different cloud solutions to deploy innovative services. The concept has been implemented and validated in two test sites.
List of achievements
Link to videos on COOPERaTE's 2 validation sites (Bouygues Challenger campus in France and the CIT Bishopstown campus in Ireland) can be found here.
Contact
Contact person: Prof. Antonello Monti
Address:
Tel:
email: cooperate-all@lists.rwth-aachen.de