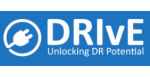 DRIvE
Demand Response Integration tEchnologies: unlocking demand response potential in the distribution network
Start date: 01.11.2017
Duration: 36 months
Coordinator: R2M Solution Spain
Details
It is widely recognised that increasing flexibility is key for the reliable operation of future power systems with very high penetration levels of Variable Renewable Energy Sources (VRES). Flexibility is the ability of a power system to maintain continuous service in the face of rapid and large swings in supply or demand. The most significant source of flexibility in a future scenario with high penetration of VRES is Demand Response (DR). The new challenge is to unlock the very high potential of DR in the distribution grid where the main sources of flexibility are the residential and tertiary buildings, representing 70% of the total DR potential.

DRIvE will unlock the Demand Response potential of residential and tertiary buildings in the distribution grid through a full-fledge platform bridging seamlessly the value-chain from planning and design of assets/buildings towards optimal operations in the next generation Smart Grids, paving the way to a fully deployed DR market in the distribution network.
List of achievements
Access the project results on CORDIS website.
Contact
Contact person:
Address: R2M Solution Spain
Tel:
email: