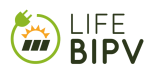 LIFE BIPV
Demonstration of an innovative Building Integrated PhotoVoltaic system toward net-zero-energy buildings
Start date: 01.07.2017
Duration: 60 months
Coordinator: COMSA Corporation
Details
LIFE BIPV aims to demonstrate innovative BIPV installations in buildings located in two EU regions with different climatic characteristics (Spain and Central Europe) in order to proof the impact and demonstrate the applicability of the approach. The project will have a demonstration scale (2 BIPV envelope surfaces of 500 m), mainly in faades and roofs. In order to demonstrate a wider palette of BIPV solutions, the project will also analyze the possibility to implement the product in additional building elements of the demonstrator buildings (i.e. awning, balcony, brise soleil, carport, canopy or shelter, among others) so the results obtained will be significant and can be replicated and/or transferred.
Specific objectives are to: Demonstrate a new BIPV building envelope that enables a substantial reduction of CO2 emissions of buildings - Main targets are to demonstrate a direct CO2 emission decrease of at least 35% of a typical (non residential) building in Europe (excluding Northern Europe) and to decrease the carbon footprint of the solar harvesting technology by 67%. Prove the economic feasibility of the BIPV system at demonstration-scale and thus, reach the last step before commercialization in the end of the project.
List of achievements
More information about the demonstrators here.
Contact
Contact person: Merche POLO
Address: COMSA Corporation, Calle Viriato, 47, 08029, Barcelona, España
Tel:
email: Merche.polo@comsa.com