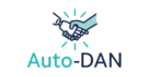 Auto-DAN
Deploying Augmented intelligence solutions in EU buildings using Data analytics, an interoperable hardware/software Architecture and a Novel self-energy assessment methodology
Start date: 01.10.2020
Duration: 48 months
Coordinator: IES R&D
Details
Auto-DAN aims to enable homes and small businesses across the EU to optimize their energy consumption and provide an assessment of the live energy performance of a building which takes into account the quality of appliances/systems installed, user operational habits and the smart readiness of a building.

The project team have setup a project concept that is applicable to all stakeholders & has the capability to be exploited internationally. The smart hardware infrastructure will adopt a flexible approach to ensure it can be integrated into most small buildings regardless of existing automation/metering systems. The technology partners have vast demonstrated commercial experience in smart appliances, ICT equipment & monitoring equipment & each building will receive a hardware installation that is tailored for its existing resources.
List of achievements
The project publications are available here.
Over the course of the four-year research project, all developments will be verified and demonstrated in 6 different Pilot sites that are located in 3 different EU countries, namely Ireland, Italy and Spain.
Contact
Contact person: Ian Pyburn
Address: IES R&D
Tel:
email: Ian.Pyburn@iesve.com