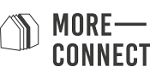 MORE-CONNECT
Development and advanced prefabrication of innovative, multifunctional building envelope elements for modular retrofitting and smart connections
Start date: 01.12.2014
Duration: 54 months
Coordinator: Huygen Ingenieurs en Adviseurs
Details
The Objective is to develop and to demonstrate technologies and components for prefabricated modular renovation elements in five geo-clusters in Europe. This includes prefabricated durable, innovative, modular composed building envelope elements for the total building envelop for the renovation market, including the prefab integration of multifunctional components for climate control, energy saving, building physics and aesthetics, with advanced easy to use plug & play connections (mechanical, hydraulic, air, electric, prefab airtight joints).
MORE-CONNECT offers tailor-made renovation concepts, from a standardized industrialized manufacturing and assembly process, in a one-shop-stop concept to the end-user, with a nearly zero energy performance of the total modular renovation concepts, a maximum return on investment less than 8 years and with a limitation of the total renovation time of 5 days. The concept offers performance guarantee for individual energy use and the quality of the indoor environment. Product innovation includes the selection of sustainable materials and sustainable detailing.
A specific feature is the development of Plug & Play connection of modular components. Smart combinations of components and executions ensure extra performances for NZE concepts, healthy indoor environment, safety, accessibility. Components communicate by integrated (wireless) sensors and control components for performance diagnostics and control. Process innovation will be achieved by the use of advanced geomatics to make inventories of buildings.
Web-based tools will link building characteristics, building (energy) potentials, and end-users demands to program requirements. This will be processed in BIM systems for the steering industrial process and enhanced quality control. This makes it possible to make tailor-made solutions for individuals, in mass production. Business models and advanced energy services (one-stop-shop) will be developed for each geo cluster.
List of achievements
Results available on the project website here.
Contact
Contact person: Peter op 't Veld
Address: Huygen Ingenieurs en Adviseurs
Tel:
email: p.optveld@huygen.net