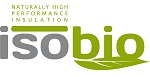 ISOBIO
Development and demonstration of highly insulating, construction materials from bio-derived aggregates
Start date: 01.02.2015
Duration: 48 months
Coordinator: TWI
Details
The ISOBIO project will develop a new approach to insulating materials through the novel combination of existing bio-derived aggregates with low embodied carbon with innovative binders to produce durable composite construction materials. These novel composites will target 50% lower embodied energy and carbon than traditional oil based insulation panels, and will increase thermal insulation compared with traditional systems by at least 20%.
By using bio-based materials, using vertical integration from raw material production through to finished systems, the ISOBIO project aims to reduce costs by at least 15% over traditional systems. The use of bio-based materials ensures that whole life energy use is reduced through taking advantage of the photosynthesis of atmospheric carbon which is sequestered in the fabric of the building for its lifetime. The ISOBIO materials take advantage of the natural moisture sorption/desorption characteristics of bio-based materials, which is known to passively manage the indoor environment resulting in greatly improved indoor air and environmental quality, whilst at the same time reducing the demand for air conditioning.
List of achievements
Results available here.
Contact
Contact person: Nadia Sid
Address: TWI
Tel:
email: nadia.sid@twi.co.uk