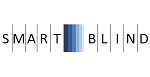 SMARTBLIND
Development of an active film for smart windows with inkjet method. Application to a building component: autonomous smart device
Start date: 01.09.2012
Duration: 36 months
Coordinator: POLYMAGE
Details
The SMARTBLIND project aims at developing an Energy Efficient Smart Window including a hybrid film constituted of an electrochromic LC film and a photovoltaic film both printed on the same long-lasting flexible substrate. The realization process will be implemented thanks to electrochromic and photovoltaic inks especially formulated to be ink-jet printed.
A reduction of the windows U-value down to 0.3 W/m².K is targeted by combining the hybrid film to an appropriate window frame.
An important part of the SmartBlind project will furthermore be devoted to the related parts, such as connectors and film control, sustainability, life cycle and recyclability.

More particularly, the SmartBlind consortium has defined 4 main objectives:
1. To reduce weight by 50% compared to glass window, while offering transparency and flexibility.
2. To improve the optical response time of windows while enabling the switching of large panes.
3. To integrate an electronic control system with an embedded power source.
4. To guarantee a low-cost industrial solution adaptable to large and shaped surfaces.
List of achievements
SMARTBLIND produced a hybrid flexible device, including printed Electrochromic (EC) and Photovoltaic (PV) films, and an energy saving window for light and solar control aimed at the construction and renovation markets. Large EC panes with a fast response time (0.1 second), supplied with PV were integrated into a low weight frame (-20%). Smart active shading was achieved.
The project results are available on CORDIS website here.
Contact
Contact person: SIXOU Pierre
Address: POLYMAGE
Tel: +33-493881725
email: p.sixou@polymage.fr