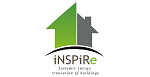 iNSPiRe
Development of systemic packages for deep energy renovation of residential and tertiary buildings including envelope and systems
Start date: 01.10.2012
Duration: 48 months
Coordinator: EURAC Research
Details
Most of the energy consumption in Europe is due to heating and cooling used for domestic, tertiary and industrial purposes. This energy is largely produced by directly burning fossil fuels with a negative environmental impact. RES directive and the SET Plan focuses its attention on the use of RES to drive systems for heating and cooling in order to reduce greenhouse gas emissions and the dependence on energy import, and to reach the 20/20/20 target. For this reason the European Union's energy policy gives high priority to energy savings and use of renewable energy sources.
The project iNSPiRe aims at conceiving, developing and demonstrating Systemic Renovation Packages, through the innovative integration of envelope technologies, energy generation (including RES integration), energy distribution, lighting and comfort management systems into deep energy renovation of buildings, both in the residential and tertiary sectors. During the project Multifunctional Industrialized Renovation Kits will be developed, manufactured and installed at three Demo Case Studies.
The optimal integration of such systems will lead to major cumulative energy savings with respect to consumption prior to renovation (therefore to extreme reductions of the CO2 emissions), assuring at the same time enhanced users' comfort conditions. The final target of the systemic renovation packages will be to reach an overall Primary Energy consumption of the building lower than 50 kWh/m²/year. The project iNSPiRe triggers a scenario of fast decarbonization, by promoting the transition of the construction sector to a fully industrial phase, hence optimizing the materials utilization and manufacturing/installation/maintenance/ dismantling processes.
The exploitation of the project results will make available on the market reliable and cost-effective products, suitable for the deep energy renovation of existing buildings, fostering the connection between construction and industry sectors, and creating new jobs.
List of achievements
The iNSPiRe project video can be found here.
Results available on CORDIS website.
Contact
Contact person: Roberto Fedrizzi
Address: EURAC Research
Tel: +39 0471 055 610
email: roberto.fedrizzi@eurac.edu