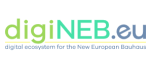 digiNEB.eu
Digital solutions for the New European Bauhaus
Start date: 01.10.2022
Duration: 24 months
Coordinator: TU Delft (Financial Coordinator) / Trust-IT (Technical Coordinator)
Details
Digital solutions are essential to achieve the ambitious objectives of the the New European Bauhaus (NEB), and digiNEB.eu provides the dedicated ecosystem for selecting and adopting such solutions.

digiNEB.eu is an initiative funded by the European Commission under the Digital Europe Programme (DEP) which started on 1st October 2022. It aims to foster digital solutions that are results of European research, thereby boosting the growing New European Bauhaus (NEB) movement. digiNEB.eu bridges the digital R&I and NEB communities and raises awareness around EU digital solutions for all NEB actors, establishing a pan-European digital ecosystem. With its lean action plan, digiNEB.eu enables Europe's Green Deal ambition in designing and building greener and more inclusive living spaces for a better quality of life.
List of achievements
Role and impact of the project
Over its duration of 24 months, digiNEB.eu will support the NEB community by developing the NEB Digital Hub web platform constituted of three main components:
Training courses: a collaborative online set of courses and training materials that stimulates knowledge and best practice sharing;
Digital Toolkit: Online environment comprising more than 200 digital solutions that can be adopted by the NEB ecosystem;
Observatory: Complete collection of more than 500 EU-funded initiatives related to the New European Bauhaus environment, that helps to raise awareness towards NEB programmes and encourage the creation of collaborative opportunities.
All services will be freely available to all stakeholder groups of NEB, from Architects, Designers, and Engineers, to Researchers, Manufacturers, and Construction Companies
Contact
Contact person:
Address:
Tel:
email: info@digineb.eu