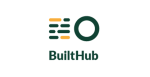 BuiltHub
Dynamic EU building stock knowledge hub
Start date: 01.10.2020
Duration: 48 months
Coordinator: Eurac Research
Details
The European Commission's efforts to design effective policies for buildings, following the 2050 strategy and the European Green Deal, hinge on detailed knowledge of building stock properties and behaviour. However, this can be challenging to manage, considering the lack of comprehensive and reliable data on the EU building stock.

BuiltHub will define a roadmap for durable data flow to characterise the EU building stock by developing an organised and inclusive data collection method, a structured web-based datahub, and long-lasting data flow through a benefits-based engagement strategy addressing data and metadata providers and users. The strategy will be applied through value information services tailored to users.
List of achievements
The list of publications will be available on the project website along the duration of the project.
Contact
Contact person:
Address: Eurac Research
Tel:
email: