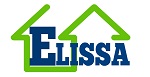 ELISSA
Energy efficient lightweight sustainable safe steel construction
Start date: 01.09.2013
Duration: 36 months
Coordinator: NTUA
Details
ELISSA targets the development and demonstration of nano-enhanced prefabricated lightweight steel skeleton/dry wall systems with improved thermal, vibration/seismic and fire performance, resulting from the inherent thermal, damping and fire spread prevention properties of carefully preselected inorganic nanomaterials (aerogels, VIPs, MMTs, CNT) and NEMS as well as the development of industrially friendly methods for their application. New computational and design tools for energy efficient, safe and sustainable anti-seismic steel frame lightweight buildings, exploiting nanomaterials and fulfilling relevant EU building codes, will be developed.
The new ELISSA prefabricated lightweight elements will reach the highest achievable degree of energy efficiency, safety - will be structurally tested and optimized as load bearing elements - and sustainability for steel lightweight buildings through:
Ensuring efficiency and structural integrity under thermal, dynamic and fire loads (due to nanomaterial properties, NEMS and design concept).
Saving materials, energy and time during construction due to construction concept (pre-fabricated elements -resilient construction that doesn't need repair in case of lower seismic action).
Saving energy during building operation due to materials (multi-functional elements with suitable insulation).
Being economic (recycled, re-usable materials, flexibility in architectural design, optimized production-logistics-construction-use chain).
The industry driven consortium comprises two major industries, one consortium of industries and four high tech SMEs, specializing in lightweight modular construction, nanomaterials and structural design, complemented by four research partners providing expertise on property assessment, testing and modeling aiming to develop, optimize and validate the ELISSA elements and systems that will enhance structural excellence, human comfort and safety in new and existing buildings.
List of achievements
Reporting and results available on CORDIS.
Contact
Contact person: Prof. Maria Founti
Address: National Technical University of Athens
Tel: +30-210-772-3605
email: mfou@central.ntua.gr