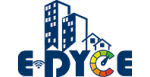 E-DYCE
Energy flexible DYnamic building Certification
Start date: 01.09.2020
Duration: 36 months
Coordinator: Aalborg University
Details
Energy performance certification (EPC) has never been more important. The time has come to enhance the time scale on which the data are evaluated. EPC provides information to consumers about the energy performance rating of a building they are interested in renting or buying, and it is also intended to suggest cost-effective ways to improve energy performance. It is provided to the EU along with inspection reports to enhance understanding and support the creation of EU policy that contributes to the improvement of overall building performance.
The E-DYCE project is developing a methodology for dynamic EPC intended to replace or be used in conjunction with the current static or steady-state methodology. It will consider the temporal nuances of energy use on scales of minutes, hours and days rather than annual averages, providing better opportunities to suggest more effective energy-efficient behaviours to consumers.
E-DYCE aligned with current Energy Performance Building Directive (EPBD) and near Zero Energy Building (nZEB) definitions, can be applied to any building of any typology, location or smartness level and will generate substantial savings of one energy class by guiding the user to unlock the potential of free running operation.
List of achievements
The project reports and results are available here.
Contact
Contact person: Michal Zbigniew Pomianowski
Address: Aalborg University, Aalborg E | Denmark
Tel:
email: mzp@build.aau.dk