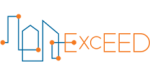 ExcEED
European Energy Efficient buildingdistrict Database: from data to information to knowledge
Start date: 01.09.2016
Duration: 37 months
Coordinator: EURAC Research
Details
The ExcEED project takes the pulse of the actual energy consumed by last generation of buildings.

The project answers the need for transparency and comparability of energy performance calculations. The scope of ExcEED is to create a European database for measured and qualitative data on beyond the state-of-the-art buildings and districts. Key performance indicators (KPIs) were developed to quantify and benchmark the energy efficiency and the environmental quality at building and district level. Advanced tools and KPIs are associated to the database to analyse real energy performance and environmental quality at the level of single building/district, geo-cluster of buildings, and European new or renovated building stock.

If the database represents the memory of the project, where all the data are stored and categorised, the tools associated to the database are the intellect. Starting from the building, data is converted into information and then into knowledge to impact the three key figures in the building sector (building managers, designers and policy makers). The loop is closed with the impact that the generated knowledge will have on the existing buildings/ districts (improved control and new policies) and on the next generation of buildings/districts (improved design and new policies).

The objectives of the project are shown below:
Orchestrate seamless integration of heterogeneous data to create the European energy efficient buildings & district database and platform;
Deliver information which provides immediate value to the user;
Determine performance benchmarks;
Realise an indoor quality survey;
Set up a return of experience process.
List of achievements
Development of relevant sectorial key performance indicators (KPIs)
Several KPIs were identified and developed to provide insight on different aspects characterising energy performance and sustainability in the building sector. These indicators can be used in the whole building life cycle, firstly defined with simulation tools and then measured. They support the decision-making process during the design and operational phases, and they support the analysis to highlight the reasons for differences between predicted performances and actual performances.
The project results are available on CORDIS website.
Contact
Contact person: Roberto Lollini
Address: EURAC
Tel: +39 0471 055 650
email: roberto.lollini@eurac.edu