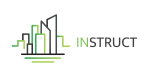 INSTRUCT
Evidence-based market and policy instruments Implementation across EU to increase the demand for eNergy Skills across conSTRUCTion sector value chain
Start date: 01.06.2020
Duration: 33 months
Coordinator: ASM Research Solutions Strategy
Details
The European construction sector needs to achieve energy efficiency objectives in order to meet the increasing challenges it is facing. In this context, energy efficiency skills are highly demanded. Therefore, the EU-funded INSTRUCT project aims to provide an operational framework for workers, in order to enhance their skills and provide them with a certification.
Within this scope, the project will facilitate the recognition of energy skills and qualifications in the construction sector and ensure new legislative frameworks. Seven European countries participate in this project (list of partners here). Eventually, INSTRUCT will contribute to encouraging a new generation of skilled and certified workers and pave the way for legislative changes in the construction sector.
List of achievements
The project results are available at https://instructproject.eu/library/results/.
Contact
Contact person: Agnieszka Kowalska, Project Coordinator
Address: ASM Research Solutions Strategy, Poland
Tel:
email: a.kowalska@asm-poland.com.pl; office@asmresearch.pl