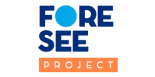 FORESEE
Future proofing strategies FOr RESilient transport networks against Extreme Events
Start date: 01.09.2018
Duration: 42 months
Coordinator: TECNALIA
Details
The FORESEE project is developing a toolkit to provide short and long term resilience schemes for rail and road corridors and logistics terminals that are able to reduce the magnitude and/or duration of disruptive events produced by humans or the nature.

The multidisciplinary team of experts working in the consortium will facilitate the use of methodologies and tools already existing in the market to study the risk and costs associated with the impact of extreme events. The research will also integrate satellite and terrestrial data in the analysis and assessment of hazards with their respective impact on passengers and freight terminals.

The innovative multimodal approach will deploy cutting-edge technologies able to deploy long-term asset management strategies. FORESEE will provide road authorities and managers with a solution to anticipate, absorb, adapt and rapidly recover from a potentially disruptive hazard during the entire lifecycle of the transport infrastructure: planning, design, construction, operation and maintenance.
List of achievements
Access the project demonstrations here.
Download the project publications here.
Contact
Contact person: Iñaki Beltran, TECNALIA
Address: Parque Tecnológico de Bizkaia Calle Astondo Bidea, Edificio 700 48160 Derio, Spain
Tel:
email: inaki.beltran@tecnalia.com