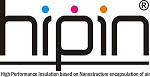 HIPIN
High Performance Insulation based on Nanostructure encapsulation of air
Start date: 01.11.2011
Duration: 41 months
Coordinator: TWI Ltd
Details
Buildings are responsible for 40 % of total energy consumption and 30 % of carbon dioxide emissions in Europe. High-performance and cost-effective building insulation will enhance the sustainability of buildings and help Europe meet its 2020 targets for reducing the amount of greenhouse gases and increasing the energy efficiency.
Conventional aerogels are currently too costly and fragile for widespread use in the construction sector. HIPIN scientists focused on developing an aerogel precursor with higher silica content (58%) than conventional material (typically 28 %). The aerogel precursor was used to manufacture aerogel. The higher silica content provided greater strength to the aerogel and allowed for its incorporation into plaster and paint formulations and into a polyurethane-based composite for panels. The thermal performance of these three products was validated not only via a lab evaluation of the thermal conductivity but also through demonstrators set up under commercially relevant conditions. The performance of these products was demonstrated by applying them to wall surfaces. Data was collected on each of these demonstrators over a 3-month period and used to validate the insulation benefits of the products.
A detailed techno-economic analysis was completed; it indicated the cost-vs-performance balance that could be achieved for each product at commercial scales. It was clear that the cost of the aerogel, its loading in the final products, and the durability of the final product (especially for the plaster) are the key factors in driving the techno-economics of this technology. A detailed life-cycle analysis (LCA) model, including envisaged end-of-life scenarios, was developed for the paint, plaster, and panel products using the HIPIN aerogel.
HIPIN has developed a strong and cost-effective reduced thickness insulation solution using robust aerogel materials for greater sustainability of buildings. The tremendous energy burden of buildings and their major role in emissions and climate change highlight the potential benefits of this technology.
List of achievements
Reporting, results and news about the project available on CORDIS.
Contact
Contact person: Sanjeev Naik
Address: TWI
Tel: +44 (0) 1223 89 9000
email: coatings@twi.co.uk