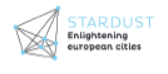 STARDUST
Holistic and integrated urban model for smart cities
Start date: 01.10.2017
Duration: 41 months
Coordinator: Fundacion CENER
Details
STARDUST brings together 3 advanced European cities with associated follower cities to pave the way towards the transformation of the carbon supplied cities into Smart, high efficient, intelligent and citizen oriented cities, developing urban green solutions and innovative business models, integrating buildings, mobility and efficient energy through ICT, validating these solutions and enabling their roll out.
In STARDUST, intelligent solutions for energy, mobility and ICT will be integrated in cities together with innovative business models, which will serve as blueprints for replication across Europe and abroad. These synergy of actions will transform cities into living labs, platforms where citizens and community engagement will become the driving elements to improve not only their way of life but also their local economies.

The project is fully aligned with the Clean Energy for All Europeans strategy and involves three lighthouse cities and four follower cities.
List of achievements
More information about the actions achieved within the project here.
Contact
Contact person: Florencio Manteca
Address: Fundacion CENER, Spain
Tel:
email: fmanteca@cener.com