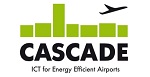 CASCADE
ICT for Energy Efficient Airports
Start date: 01.10.2011
Duration: 36 months
Coordinator: Fraunhofer ISE
Details
The CASCADE project has developed an innovative solution that incorporates existing Building Automation/Building Management Systems (BAS/BMS) with an automated Fault Detection and Diagnostics (FDD) system for Heating, Ventilating and Air Conditioning Systems (HVAC) linked to an ISO 50001 based Energy Action Plan. The solution has been implemented, tested and validated at two large European airports: Rome-Fiumicino and Milan-Malpensa.
The CASCADE software toolkit extracts data from BMS/BAS, continuously analyses these data with FDD algorithms and transforms the results of FDD into actionable energy management information over a web-based portal. The Energy Management Action System explicitly associates energy management personnel at airports with energy management actions required to maintain both comfort conditions and optimal energy efficiencies.
Furthermore, ontology model of the airports are used as a central repository for the storage of airport energy systems static data and to ensure a seamless data transfer between heterogenic systems. The CASCADE solution has identified large energy savings potentials up to 20% at both airport pilots. For the Terminal 1 at Fiumicino airport, it amounts to 363 MWh electricity, 691 MWh heat and 527 MWh chilled water savings per year or to about 90 k€/y and 230 Tons of CO2.
At the Malpensa airport, energy saving potentials in the operation of the air handling units providing the Satellite A with fresh air conditioned air amounting to 126 MWh electricity, 309 MWh heat and 262 MWh chilled water have been discovered by the means of CASCADE. These results show the high potential of this technology which can be easily replicated to other building types like hospitals, building offices, schools and university campus for example.
List of achievements
A video featuring the CASCADE project can be found here.
Publications available on the project website and CORDIS.
Contact
Contact person: Nicolas Réhault
Address: Fraunhofer ISE
Tel:
email: info@cascade-eu.org