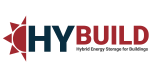 HYBUILD
Innovative compact hybrid storage systems for low energy buildings
Start date: 01.10.2017
Duration: 48 months
Coordinator: COMSA
Details
Energy storage is a key component in providing flexibility and supporting renewable energy integration in the energy system and can efficiently contribute to the decarbonisation of buildings.

HYBUILD will develop two innovative compact hybrid electrical/thermal storage systems with solar thermal and PV for stand-alone and district connected buildings controlled by an optimisation-based Building Energy Management System.
HYBUILD aims at developing cost-effective and environmental-friendly solutions, while ensuring comfort conditions in residential buildings located in two different climates: Mediterranean climate where cooling is critical; and Continental climate where a stronger focus is put on heating demand.
List of achievements
The project publications are available here.
Contact
Contact person: Merche Polo
Address: COMSA CORPORACIÓN
Tel:
email: merche.polo@comsa.com