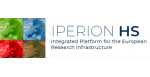 IPERION HS
Integrating Platforms for the European Research Infrastructure ON Heritage Science
Start date: 01.04.2020
Duration: 42 months
Coordinator: Consiglio Nazionale delle Ricerche (CNR)
Details
Heritage science is an umbrella term used to encompass the multidisciplinary research domain stemming from conservation science, archaeological science and building science, for which the EU Research Infrastructure E-RIHS (an ESFRI project) is being created.
Promoting heritage science is the goal of the EU-funded IPERION HS project. It will establish an Integrating Activity for a distributed pan-European research infrastructure, opening key national research facilities of recognised excellence in heritage science. The project is described as a further step towards a unified scientific approach to the most advanced European instruments for the analysis, interpretation, preservation, documentation and management of heritage objects. With 67 partners from 23 countries, 52 access providers and more than 180 services, IPERION HS core activity will offer cross-border access to an impressively wide range of high-level scientific instruments, methodologies, data and tools for advancing knowledge and innovation in the study and preservation of heritage.
List of achievements
The catalogue of services proposed by IPERION HS is available here.
Contact
Contact person: Luca Pezzati
Address: Consiglio Nazionale delle Ricerche (CNR)
Tel:
email: luca.pezzati@cnr.it; co@iperionhs.eu