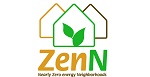 ZenN
nearly Zero energy Neighborhoods
Start date: 01.03.2013
Duration: 48 months
Coordinator: TECNALIA
Details
Large scale implementation of building renovation actions is affected by a number of barriers of diverse nature. The need for complex agreements, long returns of investment and the fact that often buildings with the worst performance belong to social low income groups unable to afford comprehensive renovation are amongst the main factors hindering the massive adoption of low or nearly zero energy building renovation (nZEBR) actions. Joint analysis of these barriers clearly show the need for adoption of holistic approaches in such renovation processes in order to achieve successful implementation at a large scale. Medium-low income groups are in the focus of the case studies of this project. Consequently, the main challenges for energy renovation processes at neighbourhood scale addressed by the ZenN project are technical challenges, financial challenges, and property structure.

Taking the definition of these challenges as a starting point, the project focuses on the following objectives:
Demonstrate the feasibility of innovative low energy renovation processes for buildings at the neighbourhood scale
Identify, optimize and disseminate the most promising management and financial schemes to facilitate large scale replication
Layout, improve and launch ambitious replication plans in the local and regional scales.
List of achievements
Reporting, results and news about the project available on CORDIS.
Contact
Contact person: Francisco Rodriguez
Address: TECNALIA
Tel:
email: francisco.rodriguez@tecnalia.com