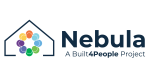 NEBULA
New European Bauhaus Unlocked through Built4People-endorsed Local Actions
Start date: 01.10.2022
Duration: 30 Months
Coordinator: DOWEL INNOVATION
Details
Within Horizon Europe, the Built4People Partnership (B4P) aims, among other objectives, to connect to a set of national or regional Innovation Clusters in view of maximizing innovation impacts.
The NEBULA projects will build upon B4P Partnership and the New European Bauhaus initiative to activate and nurture a network of B4P Innovation Clusters, by implementing:
improved visibility, adoption and uptake of innovative solutions that are in line with the New European Bauhaus thanks to increased awareness on benefits from innovation and better access to co-financing,
intensified, cross-sectorial and interdisciplinary peer-learning from front runners as well as cross-border cooperation and networking,
preparation for the long-lasting activities of the network of B4P Innovation Clusters and the integration of the next clusters.
This project has received funding from the European Union's Horizon Europe research and innovation programme under Grant Agreement No 101079859.
List of achievements
To be completed
Contact
Contact person: Karine LAFFONT-ELOIRE, Project Coordinator
Address: DOWEL INNOVATION, France
Tel:
email: karine.laffont@dowel.eu; contact-DI@dowel.eu