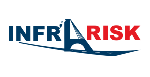 INFRARISK
Novel Indicators for identifying critical INFRAstructure at RISK
Start date: 01.10.2013
Duration: 36 months
Coordinator: ROUGHAN & O'DONOVAN Ltd
Details
The achievements of the European Union targets regarding energy and socio-economic sustainability are highly dependent on the way risks and vulnerabilities of European operating infrastructure networks and critical assets are minimised against natural extreme events. The INFRARISK project will develop reliable stress tests on European critical infrastructure using integrated modelling tools for decision-support. It will lead to higher infrastructure networks resilience to rare and low probability extreme events, known as "black swans". INFRARISK will advance decision making approaches and lead to better protection of existing infrastructure while achieving more robust strategies for the development of new ones. INFRARISK proposes to expand existing stress test procedures and adapt them to critical land-based infrastructure which may be exposed to or threatened by natural hazards. Integrated risk mitigation scenarios and strategies will be employed, using local, national and pan-European infrastructure risk analysis methodologies. These will take into consideration multiple hazards and risks with cascading impact assessments.
The INFRARISK approach will robustly model spatio-temporal processes with propagated dynamic uncertainties in multiple risk complexity scenarios of Known Unknowns and Unknown Unknowns. An operational framework with cascading hazards, impacts and dependent geospatial vulnerabilities will be developed. This framework will be a central driver to practical software tools and guidelines that provide greater support to the next generation of European infrastructure managers to analyse and handle scenarios of extreme events. The minimisation of the impact of such events by the supporting tools shall establish optimum mitigation measures and rapid response. INFRASRISK will deliver a collaborative integrated platform where risk management professionals access and share data, information and risk scenarios results efficiently and intuitively.
List of achievements
Reporting, results and news about the project available on CORDIS.
Contact
Contact person: Professor Eugene O' Brien
Address: ROUGHAN & O'DONOVAN Ltd
Tel:
email: eugene.obrien@rod.ie