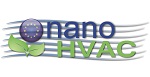 NANO-HVAC
Novel Nano-enabled Energy Efficient and Safe HVAC ducts and systems contributing to a healthier indoor environment
Start date: 01.09.2012
Duration: 36 months
Coordinator: VENTO NV
Details
The project "Nanotechnology based approaches to increase the performance of HVAC systems" (NanoHVAC) emerges from the recognition that energy efficiency is one of the keys to achieve reduced CO2 greenhouse gas emissions responsible for climate change, together with the fact that the construction market, in which residential and non-residential buildings are the largest economic sector, is the highest energy consumer in the European Union (about 40%). A major part of electricity usage in commercial and public office buildings corresponds to the HVAC systems and these systems together with street and commercial lighting accounts for more than 60% of electricity usage in the office buildings within the EU.
In particular, Heating, Ventilation, and Air Conditioning (HVAC) systems represent almost 33% of the energy use in commercial facilities (14% space heating, 10% space cooling and 9% ventilation).
With this background, NanoHVAC developed an innovative integration for ducts insulation while introducing new cleaning and maintenance technologies, all enabled by cost-effective application of nanotechnology. The whole system aims to be developed with a requirement of service life of the building of 25 years.
The objective of NanoHVAC was to deliver the following components integrated in one unique system:
Safe, high insulating HVAC-ducts enabling minimization of heat/cool losses: cost effective, safe and extremely thin insulating duct layers that can be applied both to circular and square ducts (wet-spray / injection solutions) Insulation will be obtained using sprayable/injectable aeroclay-based insulating foams that can be automatically applied during manufacturing of ducts, avoiding manual operation needed for conventional materials. Such technologies, will guarantee a 50% saving in energy losses and reduction of 45% of the duct cost, as compared with conventional insulated ducts.
Cost-effective pathogen and allergenic removal during operation and maintenance to reduce microbial growth:

development of anti-microbial, anti-fungal and anti-allergic sprayable and self-adhesive photocatalytic coating, based on titanium oxide nanoparticles, for HVAC filters, to be applied during manufacturing (for new HVAC systems) as well as when already in situ (for existing HVAC systems). The antifungal and anti-microbial activity will last about 15 months, i.e. more than the annual HVAC maintenance schedule). The pulsating and interrupted activation of a low energy UV LED system to activate the coating will not increase the HVAC energy consumption rate by more than 1%.
Development of an injectable liquid polymer matrix (epoxy resins with polyamine derived crosslinking catalyst) containing antimicrobial nanoparticles (silver oxides) for air ducts in situ maintenance activities: the liquid polymer will polymerize in situ creating a coating of thickness < 20Dm which will cover the surface trapping dirt, debris and microorganisms, thus "regenerating" the duct inner layer. The procedure may be repeated over time without affecting HVAC energy performance.
List of achievements
The project results are available on CORDIS website here.
Contact
Contact person: Bart Modde
Address: VENTO NV
Tel:
email: