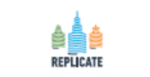 REPLICATE
REnaissance of Places with Innovative Citizenship and Technology
Start date: 01.02.2016
Duration: 60 months
Coordinator: Fomento San Sebastián
Details
REPLICATE team is working to accelerate the deployment of innovative technologies, organisational and economic solutions to significantly increase resource and energy efficiency, improve the sustainability of urban transport, and drastically reduce greenhouse gas emissions in urban areas.

Therefore, the project aims to enhance the transition process to a smart city in three areas: energy efficiency, sustainable mobility, ICT Infrastructures.
There are three lead cities (called Smart City 'Lighthouses'), which include San Sebastian in Spain, Florence in Italy and Bristol in Great Britain. There are also a number of other 'follower' cities that will look into replicating interventions in their cities including Essen (Germany), Nilüfer (Turkey) and Lausanne (Switzerland). In addition to this, there are also a number of 'observer' cities, such as, Guangzhou (China) and Bogota (Colombia), as well as international networks who will take part in learning and dissemination of results. The project has a Consortium that consists of 38 partners.
List of achievements
REPLICATE aimed to develop and validate a sustainable city business model in the lighthouse cities of San Sebastian, Florence and Bristol, to improve the transition process towards a SmartCity in the fields of energy efficiency, sustainable mobility and ICTs/Infrastructures, deploying innovative technologies, increasing the quality of life of the citizens, and influencing the replication process.
More information on the main actions of the project here.
Contact
Contact person:
Address: Fomento San Sebastián, Spain
Tel:
email: info@replicate-project.eu