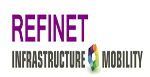 REFINET
REthinking Future Infrastructure NETworks
Start date: 01.05.2015
Duration: 24 months
Coordinator: CSTB
Details
Its objective of REFINET was to create a sustainable network integrating relevant stakeholders' representatives of all transport modes (road, railway, maritime, fluvial…) and transport infrastructure sectors in order to develop a shared European vision on how should be specified, designed, built or renovated, and maintained the multimodal European transport infrastructure network of the future (including, but not only, cross-modal aspects), in order to enhance the effectiveness of the sector, and to elaborate a Strategic Implementation Plan (SIP) that will define the innovation activities that are required to make this vision a reality.
List of achievements
Publications available here.
The follow-up of REFINET results is managed by the ECTP Infrastructure & Mobility (I&M) Committee.
Contact
Contact person: Alain Zarli
Address:
Tel:
email: alain.zarli@ectp.org