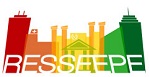 RESSEEPE
REtrofitting Solutions and Services for the enhancement of Energy Efficiency in Public Edification
Start date: 01.07.2013
Duration: 48 months
Coordinator: IES Ltd
Details
RESEEPE will bring together design and decision making tools, innovative building fabric manufacturers and a strong demonstration programme to demonstrate the improved building performance through retrofitting. The core idea of the RESSEEPE project is to technically advance, adapt, demonstrate and assess a number of innovative retrofit technologies. Reductions in the area of 50% will be achieved in terms of energy consumption. A systemic process will be also implemented that will allow the selection of the best possible retrofitting mix, customised to the needs of the particular building.

Several remarkable innovative technologies and materials will be integrated in the retrofitting process:
Envelope Retrofitting: Ventilated Facades, Aerogel-based Superinsulating mortar, Wooden Insulating Wall Panel and VIP Panel
Integration of RES: PV Energy, Thermal Collectors
Energy Storage Systems: Thermal storage and PCMs
Nanotechnologies and smart materials: EC/PV Windows
ICT: Strategies at building and district level
Intelligent Building Controls: HVAC systems
The RESSEEPE framework will be validated and refined by a strong demonstration programme, envisaging the renovation of 102.000 square meters of public buildings, arriving to a total renovation of 205.000 square meters that will be deployed in the following years. The estimated average of energy consumption in the renovated demo sites, on final energy, will be 66 kWh/m2•year, representing a 63% of reduction in energy consumption compared to the current situation. CO2 emissions will be 48,15 kg/m2•year, corresponding to more than 60 % of reduction. The total emissions avoided by the demo sites will be 2257 tCO2/year.

Associated investment costs to building renovation are expected to represent a maximum of 19% on average of the total costs of building an equivalent new building in the same location. On average, the return on investment will be around 7,6 years.
List of achievements
The RESSEEPE project videos can be found here.
Reporting, results and news about the project available on CORDIS.
Contact
Contact person: Giulia Barbano
Address: IES Ltd
Tel: +44 141 945 8500
email: giulia.barbano@iesve.com