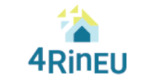 4RinEU
Robust and Reliable technology concepts and business models for triggering deep Renovation of Residential buildings in EU
Start date: 01.10.2016
Duration: 57 months
Coordinator: Eurac Research
Details
A big part of Europe's building stock is inefficient in terms of energy use, mainly as a consequence of excessive heat losses through building envelopes and lack of efficiency of the HVAC systems. Very few buildings are undergoing deep renovation, and when it happens it results often more expensive than initially foreseen.
Renewable energy production is still often underestimated, even if there is throughout Europe a big availability of RES.
The project 4RinEU is meant to provide an answer to these challenges, providing new tools and strategies to encourage large scale renovation of existing buildings, fostering the use of renewable energies, and providing reliable business models to support their applications.
4RinEU will minimize failures in design and implementation, manage different stages of the deep renovation process, from the preliminary audit up to the end-of-life, and provide information on energy, comfort, users' impact, and investment performance.
List of achievements
Reports and deliverables available here.
Contact
Contact person: Roberto Lollini
Address: Eurac Research
Tel:
email: roberto.lollini@eurac.edu