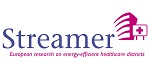 STREAMER
Semantics-driven Design through Geo and Building Information Modelling for Energy-efficient Buildings Integrated in Mixed-use Healthcare Districts
Start date: 01.09.2013
Duration: 48 months
Coordinator: TNO
Details
STREAMER is an industry-driven collaborative research project on Energy-efficient Buildings (EeB) with cases of mixed-use healthcare districts. Such districts are the best real examples of neighbourhood with integrated energy system consisting of mixed building types (i.e. hospitals and clinics; offices and retails; laboratories and educational buildings; temporary care homes, rehabilitation and sport facilities). The energy use of 1 healthcare district could exceed that of 20,000 dwellings. In almost every European city there is at least one healthcare district making a huge impact on the whole city's energy performance.
STREAMER aims at 50% reduction of the energy use and carbon emission of new and retrofitted buildings in healthcare districts. Healthcare-related buildings are among the top EU priorities since they play a key role for a sustainable community, but their energy use and carbon emission are among the highest of all building types. Take for instance a typical hospital building that is part of the healthcare district. It uses 2.5 times more energy than an office. In the EU, there are some 15,000 hospitals producing 250 million tons of carbon per annum.
The EeB design complexity is extremely high, and therefore, both holistic and systemic approaches are crucial. STREAMER will resolve this by optimising Semantics-driven Design methodologies with interoperable tools for Geo and Building Information Modelling (Semantic BIM and GIS) to validate the energy performance during the design stage. STREAMER will enable designers, contractors, clients and end-users to integrate EeB innovations for: 1) building envelope and space layout; 2) medical, MEP and HVAC systems; and 3) building and neighbourhood energy grids.
STREAMER results will be validated in the 4 real projects involving the Implementers Communities. The outcome will be used to extend the standardisation in EeB design and operation, open BIM–GIS (IFC–CityGML), and Integrated Project Delivery (IPD).
List of achievements
Publications & results available on CORDIS website.
Contact
Contact person: Freek Bomhof
Address: TNO
Tel:
email: freek.bomhof@tno.nl