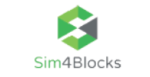 Sim4Blocks
Simulation Supported Real Time Energy Management in Building Blocks
Start date: 01.04.2016
Duration: 54 months
Coordinator: HFT Stuttgart
Details
The four year EC-funded project, Sim4Blocks, focused on the development of innovative demand response (DR) services for residential and commercial applications. The project combined decentralised energy management technology at the blocks-of-buildings scale to enable DR.

The DR systems and services were tested in three pilot sites in Germany, Spain and Switzerland, and were tested together with applications and for intuitive user interaction. Successful models will be transferred to the customers of project partners in further European countries (Belgium, France, UK)

The pilot sites are blocks of highly energy-efficient buildings with diverse energy systems and, most importantly, the infrastructure necessary for testing DR strategies.
Read more about the problem the project is addressing, the context in which it is meeting this pressing challenge and the approach it is taking to provide one of the solutions here.
List of achievements
Within Sim4Blocks, software optimization prototypes and interfaces for the flexibilized operation of heat pumps have been developed and tested at three pilot sites. It was shown that heat pumps represent a large flexibility potential and that it is possible to manage clusters of heat pumps to increase PV self-consumption, to apply flexible electricity prices and to serve the operating reserve.
Access the project deliverables here and the factsheets here.
Contact
Contact person: Prof. Dr.Wolfram Mollenkopf
Address: HFT Stuttgart, Germany
Tel:
email: https://sim4blocks.eu/contact/