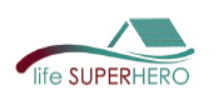 SUPERHERO
SUstainability and PERformances for HEROTILE-based energy efficient roofs
Start date: 01.07.2020
Duration: 60 months
Coordinator: CENTRO CERAMICO
Details
SUPERHERO promotes the use of Ventilated and Permeable Roofs for an effective and low-cost answer to cities and buildings overheating. The building "passive cooling" technologies allow to reduce the temperatures of buildings envelope (roofs and walls) and consequently of the surrounding air, thus limiting Urban Heat Island, decreasing the energy demands for artificial cooling and improving the indoor comfort.
List of achievements
More information on the solution proposed by the project here.
Contact
Contact person: Giuliana BONVICINI
Address: CENTRO CERAMICO, Italy
Tel:
email: bonvicini@centroceramico.it