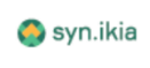 syn.ikia
Sustainable Plus Energy Neighbourhoods
Start date: 01.01.2020
Duration: 54 months
Coordinator: NTNU
Details
The syn.ikia innovation project within the EU Horizon 2020 framework involves 13 partners from six countries and aims to enable the development of sustainable plus energy neighbourhoods in different climates, contexts and markets in Europe.

Over the course of the project, four real-life plus-energy demo neighbourhood projects tailored to four different climatic zones will be developed, analysed, optimized and monitored, demonstrating the functionality of the plus-energy neighbourhood concept for the rest of Europe.
Our mission is to increase the proportion of sustainable neighbourhoods with surplus renewable energy in different contexts, climates and markets in Europe. The project aims at achieving:
more than 100% energy savings
90% renewable energy generation triggered
100% GHG emission reduction
10% life cycle costs reduction
compared to the 2020 nearly zero-energy buildings (NZEB).
List of achievements
The project publications are available at https://www.synikia.eu/library/
Contact
Contact person: Niki Gaitani
Address: Norwegian University of Science and Technology (NTNU), Norway
Tel:
email: niki.gaitani@ntnu.no