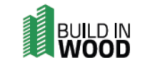 Build-in-Wood
Sustainable Wood Value Chains for Construction of Low-Carbon Multi-Storey Buildings from Renewable Resources
Start date: 01.09.2019
Duration: 48 months
Coordinator: Danish Technological Institute
Details
The project will develop a sustainable and innovative wood value chain for the construction of multi-storey wood buildings. It will develop the materials and components as well as structural systems and façade elements for both new construction and retrofitting applications. The project will deliver a Design Guide on materials and components and will demonstrate digital case projects and a test system for prototypes.
The Build-in-Wood project Consortium consists of 21 partners from 11 different countries, covering the entire wood value chain from factory to final construction.
List of achievements
The project facts are available here.
Contact
Contact person: Niels Morsing
Address: Danish Technological Institute
Tel:
email: nmo@teknologisk.dk