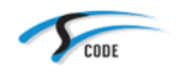 S-CODE
Switch and crossing optimal design and evaluation
Start date: 01.11.2016
Duration: 36 months
Coordinator: University of Birmingham
Details
The overall aim of the S-CODE project is to investigate, develop, validate and initially integrate radically new concepts for switches and crossings that have the potential to lead to increases in capacity, reliability and safety while reducing investment and operating costs.

The S-CODE project will identify radically different technology concepts that can be integrated together to achieve significantly improved performance for S&C based around new operating concepts (e.g. super-fast switching, self-healing switch).

The project will build on existing European and national research projects (in particular, the lighthouse project In2Rail, Capacity4Rail and Innotrack) to bring together technologies and concepts that will significantly reduce the constraints associated with existing switch technologies and develop a radically different solution.
List of achievements
Access the project results and publications on the project website here and on CORDIS at https://cordis.europa.eu/project/id/730849/results
Contact
Contact person: Prof. Clive Roberts
Address: University of Birmingham
Tel:
email: c.roberts.20@bham.ac.uk