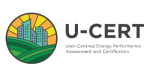 U-CERT
Towards a new generation of user-centred Energy Performance Assessment and Certification; facilitated and empowered by the EPB Center
Start date: 01.09.2019
Duration: 39 months
Coordinator: Huygen Installatie Adviseurs
Details
The main aim of U-CERT is to introduce a next generation of user centred certification schemes to value buildings in a holistic and cost-effective manner. This aims to:
- facilitate convergence of quality and reliability, using the under the M480 mandate developed national annexes standards, enabling a technology neutral approach that is transparently presented;
- encourage the development and application of holistic user-centered innovative solutions, including the smart readiness of buildings;
- encourage and support end-users in decision making (e.g. on deep renovation).

U-CERT has a focus on strengthening actual implementation of the EPBD by providing insights from an user perspective and creating a leveled playing field for sharing implementation experience, (Mandate M/480 and product related) to all involved stakeholders, facilitated by the EPB-center.
U-CERT has the following five measurable objectives:
1: Facilitating the implementation of the new generation of Certification Schemes with a wide based support
2: Making the new certification schemes more practical, reliable and 'desirable' by a holistic and user centered approach
3: Making the new certification schemes easy accessible for a wide range of users and stakeholders by the services of the EPB center
This objective has a twofold approach: 1) by accelerating the implementation by the development of a set digital supporting tools and 2) by incubating new certification concepts and business models, empowered by the U-CERT results. The EPB center has a central role in achieving this objective by offering services to all relevant stakeholders in order to promote and foster a harmonized and comparable implementation of the EPBD.
4: Providing evidence of the usefulness and meaningfulness of developed means by testing the U-CERT approach in selected cases by the EPB center.
5: To foster a EU-wide uptake by motivating and activating EU interest groups and certifying bodies (not involved in U-CERT).
List of achievements
Access the project proceedings here.
Results also available on CORDIS website.
Contact
Contact person: Huygen Installatie Adviseurs
Address: Parkweg 22b, Maastricht 6200AM, Netherlands
Tel: +31880322222
email: info@u-certproject.eu