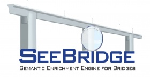 Start date: 01.11.2015
Duration:
Coordinator: Technion
Details
Highway asset owners face severe problems acquiring status data for their bridges. There are not enough experienced bridge engineers for the extensive work required for inspection of a large number of bridges; bridge inspections mean interruption of transportation and are potentially dangerous activities; and the data available in many Bridge Management Systems (BMS) does not meet the standard of information needed for subsequent bridge repair, retrofit and rebuild work.
SeeBridge (Semantic Enrichment Engine for Bridges) targets the development of a comprehensive solution for rapid and intelligent survey and assessment of bridges. In the SeeBridge approach, various advanced remote sensing technologies, including terrestrial laser scanning, video and photogrammetry will be used to rapidly and accurately capture the state of a bridge. A bridge object detection software will be developed to reconstruct distinct 3D solid geometry from the point cloud data. Next, an expert system that encodes bridge engineers' knowledge in identifying bridge components and systems will be developed for classification of the bridge components from the 3D solid model and for deduction of supplementary information concerning material types, internal bridge components, object relationships, etc. A damage measurement tool will also be devised to associate the identified defections with the model objects at the bridge component level.
List of achievements
The output will be a bridge information model that is sufficiently semantically meaningful to provide most of the information needed for decision-making concerning the repair, retrofit or rebuild of a bridge.
Contact
Contact person: Anat Avital
Address:
Tel:
email: seebridge@tx.technion.ac.il