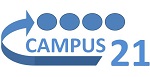 Start date: 01.09.2011
Duration: 45 months
Coordinator: University College of Cork - IRUSE
Details
Campus 21 focuses on the energy efficient operation of public buildings, developing a hardware-software platform for load-balancing, advanced control, and building performance analysis. It spans the entire innovation chain. The holistic evaluation framework includes performance Indicators for indoor comfort, systems operation, the intensity at which facilities are used, and energy usage.
An IFC4-based DWH to contain the data measurements and an evaluation performance methodology as pre-requisite for new business and procurement models.
New business and procurement models
A middleware that acts as an ICT-enabler integrator from data-layer and application layer
Advanced control systems at zone level, building level and campus level
Load balancing tools to increase the energy performance of building facilities
These solutions have been successfully applied in the two demonstrators of the project: UCC campus and Commerzbank Arena. In both cases, the ICT integration, including monitoring and control, mechanical integration (Building Services Systems) and management integration (gap analysis in business and procurement models) have been carried out. Furthermore, the application of the solution in these demos has also provided feedback to the different stakeholders in order to extract the lessons learned.
List of achievements
See documents below.
Contact
Contact person: Karsten Menzel
Address: University College of Cork - IRUSE
Tel:
email: k.menzel@ucc.ie