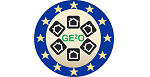 GE2O
Geo-clustering to deploy the potential of energy efficient buildings across EU
Start date: 01.01.2012
Duration: 48 months
Coordinator: CSTB
Details
GE2O developed a geo-cluster mapping tool consisting of a multi-dimensional and dynamic GIS to identify similarities across the EU. It enables the combination of single or multiple parameters addressing both technological and non-technological aspects. Virtual transnational areas are identified with strong similarities in terms of climate, construction typologies, energy prices and regulations.
List of achievements
The project results are available on CORDIS website here.
Contact
Contact person: Dominique CACCAVELLI
Address: CSTB
Tel:
email: dominique.caccavelli@cstb.fr