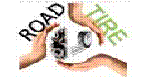 Start date: 01.09.2010
Duration: 24 months
Coordinator: Aristotle University of Thessaloniki
Details
End-of-life tyres represent a serious disposal and environmental problem, which can cause human health hazards. Both European and Greek legislation have already banned end-of-life tyres from landfill. Tyres are a complex product comprising many high-technology materials from the metallurgical, textile and chemical industries, including synthetic and natural rubber and additives such as mineral oil and reinforcing fillers. Some of these materials can be hard to break down for recycling or re-use. The most significant technical problem for recycling tyres concerns the three-dimensional network of sulphur polymer molecules in its chemical structure. These are created during the process of vulcanisation, in which rubber is made more durable and less sticky by the addition of sulphur. The problem is that the reaction of sulphur and rubber molecules is thermodynamically irreversible. It is therefore difficult to remove the sulphur and de-vulcanise the rubber compound to produce a valuable recycled material.
The objective of the two-year ROADTIRE project was to demonstrate an innovative use for recycled vulcanised rubber from end-of-life (EOL) tyres in road construction. Ultimately, the project aim was to demonstrate a market for EOL tyres in civil engineering, and thus reduce the amount being stockpiled or sent for uses with a higher carbon footprint. The project examined all existing civil engineering uses of rubberised - vulcanised or de-vulcanised - asphalt systems, to identify which could best be applied to the project area in the city of Lamia, in the Sterea Ellada region of Greece, where no such concepts previously existed. Using vulcanised rubberised asphalt from EOL tyres, the project aimed to lay demonstration road surfaces and assess them for increased life-span, reduced noise and increased safety in wet conditions.
The ROADTIRE project successfully promoted the use of EOL tyres in road construction and maintenance, through a pilot application that involved laying two sections of two different roads with a vulcanised rubberised asphalt layer. This was the first such application of rubberised asphalt in Greece, with a total surface area of 5 100 m2 being covered with a 5 cm upper circulation layer of the material. The two applications were on a busy road and on a light-traffic road in Lamia, using two different subcontractors. The road works were supervised by the Municipality of Lamia; they proceeded on time and the pilot application received excellent feedback from road users.
In situ measurements of the rubberised asphalt material's properties were conducted. Results showed a reduction in traffic noise exposure levels of up to 4 dB; a relative increase of skid resistance that makes the road safer for drivers, and a relative decrease of rut depth, compared to conventional road sections. Macroscopic examination showed no cracks or irregularities on the rubberised asphalt layer, even after high summer temperatures (up to 44oC). This in turn implies that maintenance costs are expected to be less than those required for conventional roads.
Extensive laboratory tests to optimise the asphalt mixture were done before and after the pilot application. These included examination of the properties of tyre rubber particles, natural aggregates and modified bitumen. A Life Cycle Analysis (LCA) showed that the rubberised road had better environmental performance due to its longer lifetime, with the relevant impact categories indicators for the rubberised asphalt road life cycle being about 35% lower than those for the conventional road.
List of achievements
The ROADTIRE project produced a 'Worldwide survey on best (and worse) practices concerning rubberised asphalt implementation', compiled from literature searches and questionnaires sent to bodies involved in EOL tyre management. Italian associated beneficiary SSSUP delivered 'Market analysis of EOL-tires', which documented the potential of rubberised asphalts in Italy, and also organising visits for the project partners to meet Italian research groups that have developed pilot projects on rubberised asphalts. In addition, a SWOT analysis was performed in order to assess the Strengths, Weaknesses, Opportunities and Threats involved in EOL tyre markets, resulting in a report that could be adopted by European countries to create a sustainable supply chain for EOL tyres.
Another important project output was the 'Development of EOL-tire management guidelines in road construction' in the form of a handbook that included technical specifications of rubberised asphalt mixtures for use in road construction. Specifications were submitted to the Ministry of Development, Competitiveness, Infrastructure, Transport and Networks. The formal adoption of these specifications in Greece, through new legislation, should lead to a significant reduction in the amount of stockpiled EOL tyres, as well as a reduction in the amount of EOL tyres put to other uses with higher carbon footprints.
Comparative costs of asphalt binders for the pilot application were calculated. The cost of conventional bitumen was 0.49 €/kg, while the rubberised asphalt binder applied by the project came to 0.66 €/kg. SBS polymer-modified asphalt binder, commonly used in Greece, costs up to 0.82 €/kg. Given the anticipated lower maintenance costs required for rubberised asphalt road surfaces, using rubberised asphalt mixtures in road construction should be the preferred option in terms of cost, road performance and environmental impacts.
Rubber from EOL tyres can be successfully used in road construction, as long as the modified asphalt mixtures meet engineering standards and are cost effective. At the same time, the large-scale use of EOL tyres, which can either substitute natural aggregates or even modify the asphalt binder itself in bituminous mixtures, contributes to increasing sustainability of road construction and reduces its carbon footprint. The Lamia findings constitute a scientific background applicable to all similar towns in Mediterranean countries.
Contact
Contact person: Avraam KARAGIANNIDIS
Address: Aristotle University of Thessaloniki
Tel: +30 231 0994165
email: makis@aix.meng.auth.gr