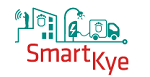 SMARTKYE
SMARTgrid KeY NEighborhood indicator cockpit
Start date: 01.11.2012
Duration: 30 months
Coordinator: ETRA I+D
Details
SMARTKYE strategic goal is to develop a system for the future smart grid neighbourhood that will enable better business decisions to be made based on real-time fine-grained data. Key end-users targeted are the public authorities who can monitor and manage key indicators in neighbourhoods with the goal of better energy efficiency and CO2 reduction.
List of achievements
SmartKYE final results in short:
A common Service Oriented Architecture, Information Models and Interfaces.
An Open Energy Services Platform Integration with the different Energy Management Systems.
A Business oriented Cockpit.
A Monitoring and Control oriented Cockpit
Large Demonstration in two scenarios- 22@ district in Barcelona and Area of Lasithi in Crete
The final version of the SmartKYE energy efficiency service platform for smart districts has been deployed in Barcelona and Crete in order to evaluate their performance and impact. The results of the evaluation have been 4-8% for energy cost reduction while 6% energy has been saved due to the RES penetration. The platform is planned to be replicated in new scenarios.
The SMARTKYE project video can be found here.
Contact
Contact person: Lola Alacreu
Address: ETRA I+D
Tel:
email: lalacreu.etra-id@grupoetra.com